Supported File Formats
TIFF Bitmap (*.tif; *.tiff; *.fax; *.g3n; *.g3f ; *.xif)
Compuserve Bitmap (*.gif)
JPEG Bitmap (*.jpg; *.jpeg; *.jpe; *.jif)
Paint Brush (*.pcx)
Windows Bitmap (*.bmp; *.dib; *.rle)
Windows Icon (*.ico)
Windows Cursor (*.cur)
Portable Network Graphics (*.png)
Photoshop PSD Image (*.psd)
Windows Metafile (*.wmf)
Enhanced Windows Metafile (*.emf)
Targa Bitmap (*.tga; *.targa; *.vda; *.icb; *.vst; *.pix)
Portable Pixmap, GrayMap, BitMap (*.pxm; *.ppm; *.pgm; *.pbm)
Wireless Bitmap (*.wbmp)
JPEG2000 (*.jp2)
JPEG2000 Code Stream (*.j2k; *.jpc; *.j 2c )
Multipage Pcx (*.dcx)
Camera Raw (*.crw; *.cr2; *.nef; *.raw; *.pef; *.raf; *.x 3f ; *.bay; *.orf; *.sre; *.mrw; *.dcr)
How to use Best Free Image Converter.
Step 1: Select Source Files. Click the button in the tool bar of "Add Source Files" to add source files to the list on the left side.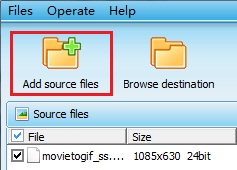 Step 2: Set Convert Options.
Select the folder of converted images to be saved in, decide how to rename the images, and then set the format, color, quality and DPI.
Resize or rotate the images if needed. Users can select the sub-option of "Scale" or "Input Value" under the option of "Resize the Image". If a frame has been set, the image may be improperly shown when previewed, requiring users to "Refresh Preview".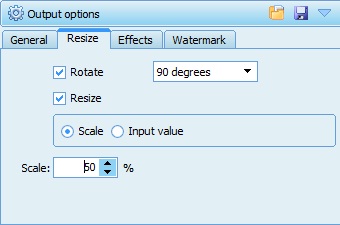 Change the brightness and contrast of images. Users can select the sub-option of "Increase" or "Decrease" under option of "Brightness" or "Contrast", then input the value as desired.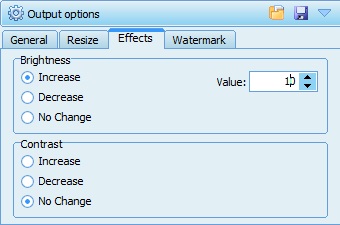 Set watermark and adjust its size, location and transparency. If the watermark is too small compared to the source image, it can not be seen when previewed. When this happens, user should adjust the size of watermark, or reselect another watermark.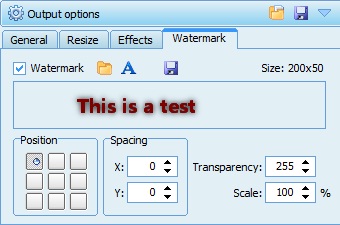 User can select default frames, or create custom ones. Select the option of "Custom" in dropdown, and then click the button on its right to pick custom frames.
Step 3: Start Convert. Click the "Start Convert" button.

Preview. Users can preview the images by selecting Effect or Source in the dropdown.