How to use Image To PDF ?
Just 3 steps !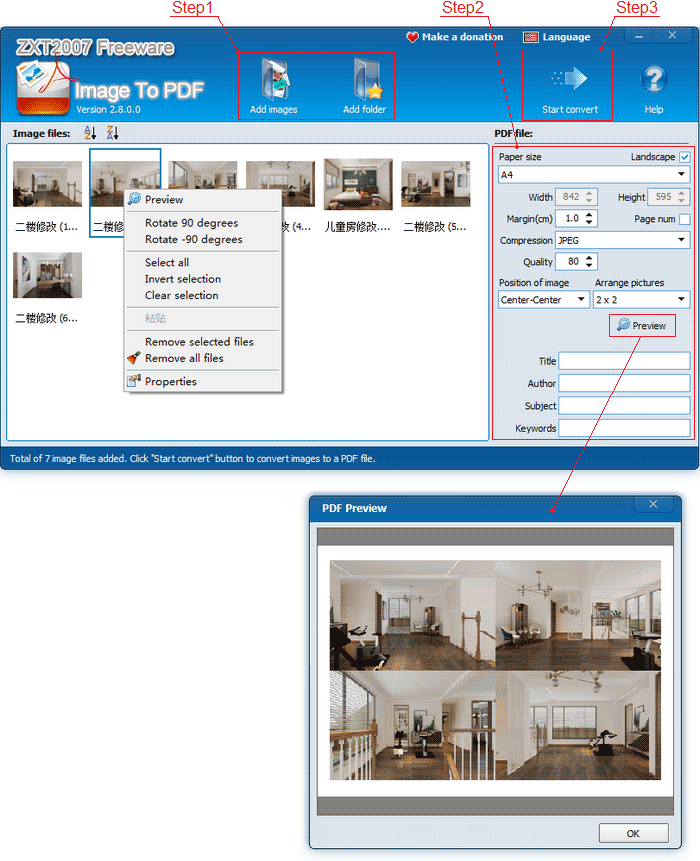 Step 1: Add images.
Click the "Add images" button to select the images to add them to the list or click the "Add Folder" button to add all the images in a folder to the list. You can also directly drag the image files from the browser with the mouse to Move to the list.
You can drag the pictures in the list to change their order, and you can also rotate the pictures through the right mouse button menu.
Note: If a file contains multiple pictures, all pictures in the file will be added. For example, files in formats such as GIF, TIFF, ICO, etc. can contain multiple pictures.
Step 2: Set PDF parameters.
● Select the paper size of the output PDF file (you can also choose landscape layout) and adjust the paper margins and the position of the picture on the paper. (If you need to output a borderless PDF file, please select the "Image size" for the paper and set the margin to 0)
Click "Preview" to open the preview window. While adjusting these parameters, you can intuitively see the style of the output PDF.
● Select the compression method.
UNCOMPRESSED: No compression. If you choose this method, the output PDF file will be larger.
G4FAX, G3FAX2D: These two methods are only suitable for the compression of black and white pictures, such as some copied black and white images.
JPEG: The most commonly used compression method. It is suitable for color or grayscale images, and can output relatively small PDF files. The disadvantage is that due to compression, the image quality will be reduced.
RLE, LZW: Lossless compression method in which the compression rate is relatively small.
● Set quality parameters: When the size of the image exceeds that of the PDF paper, this parameter takes effect. The smaller the quality parameter, the smaller the output PDF file, but the image quality will decrease accordingly.
● You can arrange multiple pictures on one page of PDF by selecting "Arrange pictures".
● PDF related information: Add title, author, subject, and keywords to PDF. (Currently the software only supports ANSI characters).

Step 3: Output PDF files.
Click the "Start Conversion" button to save the output PDF file.
How to manipulate the picture list.
Right-click the image in the list, and use the pop-up menu to preview, select, and delete images.
The mouse pairs with the Shift and Ctrl keys of the keyboard to select multiple images, and the Ctrl+A key selects all.
Drag the images in the list to change their order.